In this short tutorial we'll discuss the SEO options available, This tutorial covers the following topics:
What is SEO, How do I use the google webmaster tool, how do I add the authentication code for Google analytics and how do I change the title and keywords of a page.
What is Search Engine Optimization (SEO)?
Search Engine Optimization (SEO) is the process affecting the visibility of a website or a web page in a search engine's "natural" or un-paid("organic") search results. Once SEO was not a separate profession – Webmasters performed some basic SEO for the sites they managed and that was all. But as sites began to grow and make money, it became more reasonable to hire a dedicated SEO specialist than to have the Web master do it.
However, there are a few simple actions you can do as webmasters to optimize your website for search engines.
The most common search engine today is Google. Google offers a variety of tools to help optimize your website for search engines.
Google Webmaster Tool
If you are looking for reliable and up-to-date information on your website's optimization status, Google Webmaster is the place to go.
The algorithm that Google uses to rank websites is one of the most guarded secrets in the company.
The reason for it's secrecy is to prevent WebMasters from manipulating the algorithm to rank their website higher.
That being said, Google does provide website builders with a simple tool called WebMaster Tools.
Google WebMaster Tools enables you to view the different parameters by which Google ranks your website and your relative score in each one.
You can also add your sitemap to the WebMaster tool to assist google in scanning down changes made to your website.
Authenticating Google Analytics
The CMS has a built in statistics tool for you to use.
You can read more about it here.
It's encouraged to use at least two statistical tools to get the most accurate readings. Google provides an additional tool called Google Analytics.
To start gathering statistics through Google Analytics, you must first embed some code that's provided by google to your website.
They use this code to authenticate your user and to make sure your website is really yours, and not someone else's.
You can embed the code through Manage -> More Options -> SEO -> Html code in Head.
Keywords and Titles - Single page.
You can add a Title, Summary and Keywords to any page.
To change the SEO settings of a certain page:
Click on Pages
Click on the downward arrow next to the page's name
Select "Edit Settings"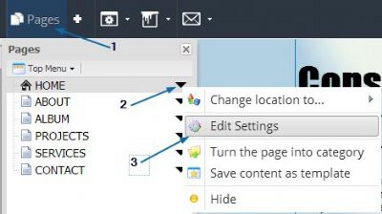 Click on the Search Engine Settings category to change the Title, Keywords, Summary and replace the default title that appears in the browser.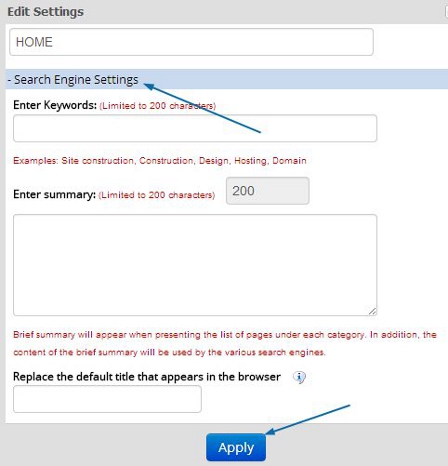 Click Apply to save the changes made.
To change the SEO settings of the entire website, go to Manage on the top left>> More options >> SEO >> Keywords and website description.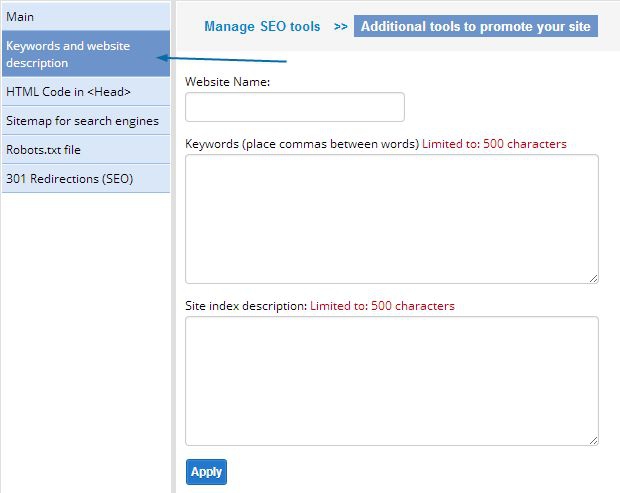 Edit the website name, keywords,and site index description and click Apply.
As you can see, You can add Keywords and Description to any page and to the website itself. Any page that doesn't contain it's own Keywords and description inherits the website's Keywords and Description
How Do I Ask Google to Scan my Website?
There is no available information on how frequently Google scans webpages, You can specifically ask google to scan your website.
Simply follow the instructions in the following link
How Do I Ask Google NOT to Scan my Website?
Sometimes you wish to hide content from search engines.
While there is no guarantee of them doing so, you can embed such requests in your Robot.TXT file.
You can read more about it here.